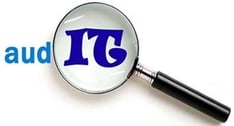 I recently completed a specialized audit for Cyber Advisors and as time consuming and inconvenient as audits can seem, there are always net positives that come as a result. Business owners and financial management are long accustomed to experiencing a wide range of audits whether it be from the government, creditors or investors. These audits are often viewed as a hassle but a necessary evil. After all, they are ultimately meant to protect the bottom line and ensure prudent accounting to their stakeholders.
I think we can all agree that technology plays such a paramount role within any successful business that ensuring the right systems are in place is almost as important as anything else within that business. Which is why companies that regularly complete a technology audit can feel good that they are doing right by their stakeholders.
IT audits can come in many forms, but a partner like Cyber Advisors can help drive the process. Clients come to us for basic network assessments, audits, virtualization or cloud readiness preparation, and for assistance in performing security audits among many other services.
The end result of audits often yield positive changes and uncover some unknowns within the business. As annoyed I get every time a new audit pops up in my calendar, I get a great sense of pride when I complete the process and can return to ownership the assurance that we are performing as expected and have targeted areas of improvement. IT leaders have an opportunity to give that same technology assurance to their management and ownership. It can be and should be a key component of the overall technology plan.