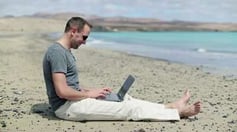 It's officially summer and for families that means summer camps, family reunions and neighborhood barbeques. For business owners it means trying to keep it business as usual while also dealing with the reality of key employees enjoying summer travel. One source of pride here at Cyber Advisors is that we are an excellent partner for companies that deal with the reality of employee travel and don't want business to suffer. Below are just a few ways in which we assist our clients diminishing summer travel headaches for business owners and IT Managers.
Cyber Advisors can design your network and provide the right tools so that that traveling employees can effectively and securely access their work from any place in the world.

Clients on a managed service contracts with Cyber Advisors have multiple network engineers intimately involved in their business. By leveraging our team there is no need to worry when scheduling PTO for employees on their IT staff. Our contracts are uniquely created to provide this type of support free of any gaps in coverage.

Companies that partner with us and utilize our service desk as their technical front line benefit from our consistent availability. Managers avoid the hassle of trying to balance the schedules of their own help desk employees and vacation schedules when we are their service desk. Our customers appreciate the reliability and the stress that this alleviates.

Another example is when a customer had a Chief Technology Officer who had booked a family vacation that was going to take him out of the country and off the grid for several weeks. He approached us because of his importance to his organization, but had scheduled a trip of a lifetime. We created a flexible contract where one of our Senior Network Engineers would be able to maintain his business while he enjoyed the travel he so richly deserved, free of work anxiety.
Summer travel is important for employee satisfaction, but work does not need to suffer at the hands of depleted IT staff or not having the right network tools for traveling employees to connect.