Any time you take on being the guinea pig and being the first out of the gate to try something new it can feel like a bit of a challenge and can cause some angst. However, this is an example where it's not the case as I was lucky enough to be the first Cyber Advisors employee to take on the Cyber Advisors Day of Service.
Each year Cyber Advisors chooses several of non-profits to support, which we will continue to do. However,
now we are also trying to empower employees more by letting them select a cause or non-profit they'd like to donate their time to. Cyber Advisors is giving each employee one paid day each year to go and volunteer their time to a non-profit or volunteer project of their choice.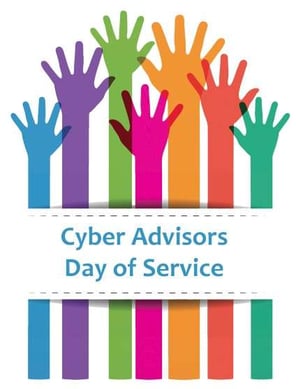 Choosing April 11th as my service day was special to me because it marked the three year anniversary of my dad's passing. My dad's entire life was dedicated to servicing others and the opportunity to honor him on this day was a true blessing. He worked very hard at his job to provide for his family, like many of our fathers. But for me I was able to see first-hand a man that devoted his life to one organization and its many causes. He worked for 37 years for Lutheran Social Services, starting out as a youth counselor and working his way up to the director level. Put simply, his life's work was making life better for kids who for whatever reason didn't have the same opportunities that he provided his own.
My earliest memories include going out to visit him at his work and understanding at an early age the many different kind of hardships other kids my same age endured. I was fortunate to see a man who cared about these kids and wanted to make a difference in their lives, but also a man who was a leader at his job and how he treated employees and co-workers. I also saw how he spent his time outside of work which was taking care of his family and volunteering his time in our own community through sports organizations and his involvement with the Duluth Rotary.
So for me, being able to take a work day and do a small sliver of service compared to the many people like my dad who wake up every day provide services for people in less fortunate circumstances was a blessing. It was also a perfect opportunity to take my son along and teach him about some of the problems other kids have his age outside our safe little bubble. Sure, my seven year old son appreciates that his dad's company helps other organizations with their IT problems, but he really thinks it's cool that we were able to do day of service for others together. As I think back on my memories of my father and the everlasting impression he left on me, I realize that I am in that moment RIGHT NOW with my son. My actions and our time together will someday be the memories he shares with his family and I hope that this Day of Service is one of those memories.
For my Day of Service my son and I delivered diapers and other goods to the Lutheran Social Services Center for Changing Lives. There are many ways to help with this fantastic program Check it out here. Then we spent the afternoon at Second Harvest Heartland packing food for area food shelves. Second Harvest makes it a very fun and valuable experience but where I was most impressed with just how easy they make it for you to sign up and volunteer. Check it out here. Both were tremendous experiences and organizations I was happy to support-even just a little bit.