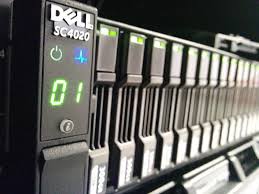 Data is at the Heart of a Building Supply Company's Operations
For more than 40 years, Hallmark Building Supplies has provided builders and homeowners with products that make structures shine: kitchen and bathroom countertops, vanity tops and other surface and construction materials.
The Waukesha, Wis., business makes its name by ensuring on-time delivery. Hallmark Building Supplies stays on top of what is being shipped from factories using real-time information and data from distributors. They offer customers quick and convenient Web access to information regarding installation, product use, maintenance and warranties.
Hallmark relies on computers and mobile devices to handle sales, track inventory, make purchase orders, communicate with customers and store internal information such as payroll records, personnel files, shipment tracking information and more.
For several years, the company used a Dell Compellent Series 30 Storage Controller to serve as part of the hub of its data control and had great success. The Compellent storage area network (SAN) nimbly handled Hallmark's increasing block-level data storage needs.
"We had no idea at the time how important Compellent would be for increasing our storage capabilities," said Todd Lienke, Vice President of Information Technology at Hallmark Building Supplies.
Looking for Partners That Understand SAN
As Hallmark's business operations became increasingly dependent on digital processes, it was apparent that the company would need a new SAN to continue providing high-speed block-level access to its email server, database and file servers. The single Fibre Channel connections that the Compellent system used to connect to Hallmark's servers weren't going to be sufficient anymore.
"Sixty percent of our computing was going through that Compellent," Lienke said. "The only thing not going through the Compellent that wasn't vital was ERP data."
After five years of use, it was clear that the Compellent system wouldn't be able to keep pace with Hallmark's increasing digital demands.
Upgrading to a new SAN with better performance and increased speed was a clear next step. Ready to make a big investment, Hallmark reached out to Cyber Advisors, a Minnesota-based IT solution provider and a Dell Premier Partner.
Cyber Advisors sat down with Lienke and his colleagues and reviewed Hallmark's business needs for today and tomorrow. Hallmark explained its storage processes and the importance of memory and speed in providing the workforce with the timely data it needs to deal with customers, suppliers and manufacturers.
More Than Product Placement; It was Project Management
Cyber Advisors' thorough analysis of Hallmark's IT infrastructure and several strategic discussions led the building supply company to select the Dell Compellent SC4020 System Controller for its SAN needs.
"Other companies had SANs with all the bells and whistles," Lienke said. "With Dell, not only are we getting a high-performance and scalable SAN in Compellent, but we have great support. When you're dealing with a crisis and need to get things fixed fast, it's great to have support that doesn't panic."
After choosing the Compellent SC4020 System Controller, Hallmark sat back and let Cyber Advisors get to work. Data replication can be an arduous task, but with the help of Cyber Advisors the transition to the new SAN went smoothly. "It was a seamless project," Lienke said. "Working with Cyber Advisors made it easy. We shut everything down on a Friday, pointed toward the new Compellent and got it done."
Outfitted with a storage center operating system with 64-bit support, the Dell Compellent SC4020 System Controller almost instantly provided Hallmark with improved scalability and performance. To Lienke's relief, it uses dual Fibre Channel connections to ensure uptime and business continuity. In short, the company's workforce is benefiting from faster speeds and Lienke has a new SAN that's easy to manage.
"A SAN is not something you buy often. So you want to make sure you purchase a system that will best fit your needs for quite some time," Lienke said. "The deployment project was the simple part. Planning for it all really was the key part of the project and Cyber Advisors helped us through that. They were great to work with. They helped get us where we wanted to go."
For more information, please click below to download this case study in full.