Cyber Advisors is a Dell Compellent certified partner at the highest level. Our value is providing an ongoing service for assuring your Dell Compellent storage is running at an optimal state and that future storage growth plans are 100% in line with your business strategy.
Do you currently utilize Dell Compellent or Dell SC Series storage in your environment? If so, Cyber Advisors is offering you a free no obligation health check for one year. This health check is a quarterly service that assures you are on the straight and narrow with your storage platform.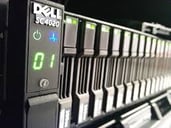 Items included each quarter for your health check:
Identify Performance Bottlenecks
Capacity Analysis
Enterprise Manager Checkup
Storage Network Analysis
SCOS Upgrade Features
CSTA - SCOS Technical Alerting
Full Recommendations Report
As mentioned, there is no obligation. The upside is completely yours! This is a limited time offer.
To schedule your first health check, simply click on the link below to fill out your contact information and we will reach out to schedule you up.