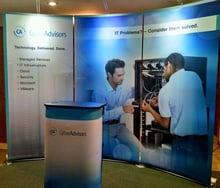 2016 has been the busiest start of the year since I joined Cyber Advisors nearly 4 years ago. Beyond the build out of our new offices, we are constantly meeting with customers and setting 2016 goals/initiatives. Making sure we are providing the best value that we can provide as a technology partner is particularly important to us.
We are hearing a common theme this year. Many of our customers are asking for training - and we are happy to oblige. One of the most exciting opportunities in our new office is our large, state of the art training room that can easily fit 40 people or more. Additionally we will have a full lounge and multiple conference rooms that are available to you. Our solution center is being built for you....and we want to make sure it is utilized to its full potential. Have an idea for training? Tell us about it!
Here is a quick run-down of scheduled events for 2016. (Invites are on the way) Please reach out to your Cyber contacts if you need any more information about these:
May 19th - Cyber Advisors Open House (New Office)
June 23rd - Dell Networking/Security Brew Event
August 4th - Cyber Advisors Technology Conference/Golf Event
August 16th - Dell Converged/Hyperconverged Lab/User Group
October 13th - Dell Storage User Group
November 17th - VDI Event
January 12th, 2017 - Dell KACE User Group/Wine Tasting
Do you want training? Below are some ideas that we are hearing from customers. If you are interested in technical training on any of the below items, please reach out!
SCCM
Azure
0365
Skype for Business/Enterprise Voice
Exchange Administration
Networking 101
Storage 101
VMware
Data Protection
As always, we want to hear from you! Please contact us below if we can provide you with knowledge to make your life easier!