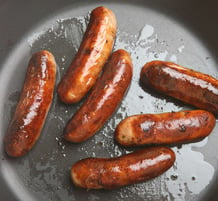 The IPO of Snap Inc, or more commonly known as Snapchat, yesterday made a lot of early investors millions of dollars along with a few other business news stories I read this week, made me think just how crazy and ever changing the business landscape is today. A company that started because people didn't want a history of their texts and photos between friends last infinitely is now one of the biggest financial stories of 2017 thus far. SnapChat's success is also a reflection of how other businesses are trying to adapt and attract this new consumer, that let's face it, might be hard to please.
So for this week's breakfast links I wanted to share stories of companies trying to figure out this new consumer landscape that wants things that are fast, easy, cheap, good for the environment, trendy, but not too trendy. Then, be prepared because every consumer has a camera, video camera, multiple social media accounts and is prepared to put your product or service on blast if they aren't satisfied. And because I am hungry this morning, I decided to focus on food companies.

Ok, a lot of the above focus has been on not so healthy food. There is a bit of interesting news regarding healthy food which is making its rounds in the UK. A new study has found that the common belief that it's just too expensive to eat healthy is being debunked. However, I read and there is nothing in there debunking just how easy and convenient eating unhealthy foods is. Here is the article.

So, to bring this all back around full circle to SnapChat, not only do people love food, but people now love taking pictures and sharing their food pictures with their followers on SnapChat. Here is an article that shows a trend last week highlighting the unique Arab cuisine.